Where to watch Bristol Balloon Fiesta
We have found the hot spots in Bristol for you to sit by and watch the beautiful display of Bristol's International Balloon Fiesta.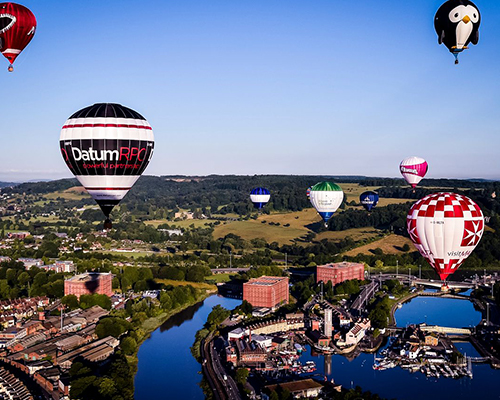 Clifton Down
First up Clifton Down. Within walking distance to the city centre this one is perfect if you will be exploring the sights of Bristol for some of the day too. Wander through the city, away from the hustle and bustle and head to this protected parkland for an afternoon picnic with an impressive view.
Victoria Park 
East of Bedminster you will find Victoria Park. This idyllic green space is a welcome break from the buzz of the city. This one is family friendly with plenty a play area to keep the kids entertained if the balloons can't keep their attention. The Victoria Park pub is also a stones throw away if you want to break up a day of balloon spotting with one of the many craft beers on offer.
The Harbourside 
Working in the city but can manage to sneak away for an hour or so? Perch on the harbour, soak up what we hope will be sunshine and watch as the balloons silently drift past bar the odd whoosh of the burner. We couldn't think of anything better to break up a stressful day at work!
Clifton Observatory 
If you fancy taking a closer look at the balloons in action then trying out the camera obscura and viewing platform at Clifton Observatory is the perfect option. Look down over the city and view the Suspension Bridge as you never have before set against a background of wonderful shapes, sizes and colours. 
Brandon Hill 
Last but very much not least Brandon Hill. Set just off Park Street this is Bristol's oldest park and offers fantastic views looking down over the harbourside and the rest of the city. If you are feeling brave you can also take a walk up the winding steps of Cabot Tower, the view is even more impressive up there. Watch the silhouettes of the balloons float across the sky from new heights.  
If you are visiting for the Balloon Fiesta this year, why not stay with us? We have 4 hotels or our luxury suites to choose from. Visit Bristol this summer for a memorable trip!
Photo © & more information: