From The Berkeley to Banksy
One of the largest, greatest mysteries of the art world is Bristol-born graffiti artist Banksy. Thanks to his Bristol beginnings, the city, renowned for its street art-covered walls, is home to many of his famous pieces.
The best place to start your trail is at the top of Park Street, this trail will lead you towards the Harbourside, to Stokes Croft and ending in Easton. Since you're starting in the area, why not have an overnight stay right in the heart of Clifton and at Bristol's first and only art hotel, The Berkeley Square Hotel.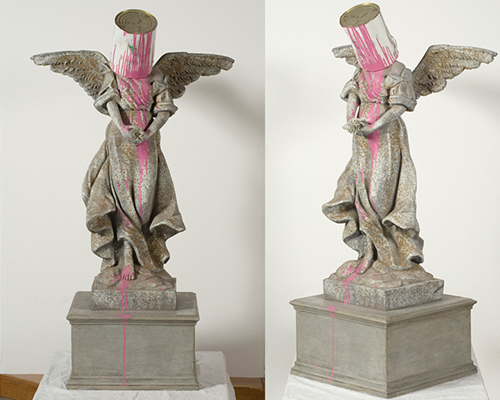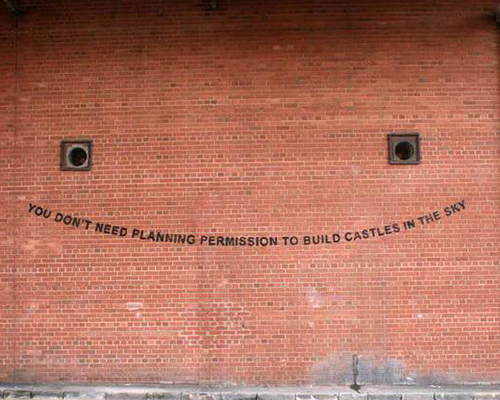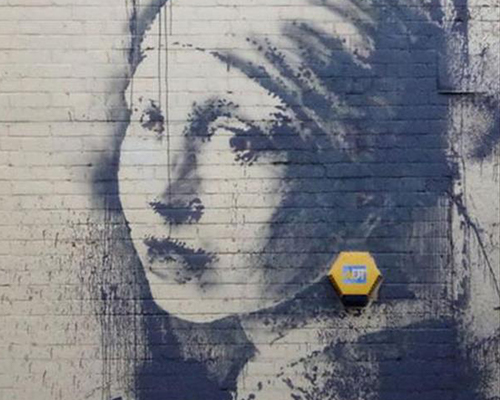 Paint Pot Angel
Starting off at the Clifton triangle, Bristol Museum and Art Gallery is the home of Paint Pot Angel. Although it is not a mural, but a statue the museum is free to explore so as well as viewing this masterpiece, you'll find lot's more.

Image: © TravelBlog
Well Hung Lover
From the Triangle, head down Park Street, browsing the great selection of independent cafes, shops, restaurants on the way. The Well Hung Lover mural but also known as Naked Man Hanging From Window, or just Naked Man is on the side of a sexual health clinic on Frogmore Street. The best views being had from the small bridge at the bottom of Park Street. Unfortunately this piece was soon vandalised by a paint gun and now rude graffiti tags, however it is still as moving as ever.
You Don't Need Planning Permission To Build Castles In The Sky
Bankys most simple, yet effective piece. If you head from Park Street towards Bristol Cathedral, behind the Central Library there is a small road called Lower Lamb Street, at the end of this road tucked away (so keep your eyes peeled) is Bankys 2011 mural… if you stand from a distance you will see the smiley face.

Image: © 365Bristol
Grim Reaper
Originally painted on the side of Thekla boat – a bar and restaurant moored in the Bristol harbour. To protect it from wear and decay, in August 2014 the work was removed and is now on display in Bristol's M Shed, and is on display for everyone to see for free.
Girl with the Pierced Eardrum
If you head along the Harbourside, admiring the views of the coloured houses of Cliftonwood and Brunel's ss Great Britain you will find the 2014 mural on the side of a building in Albion Docks in Hanover Place. The mural is a satirical parody of Vermeer's Girl with a Pearl Earring', and it uses the alarm box on the wall as the girl's earring.

Image: © VisitBristol
Fancy a break from all your walking?
Why don't you eat like Banksy and pop into Biblos. Fast-food fusion of Middle Eastern and Caribbean cuisine right in the heart of Stokes Croft. Biblos catered Banksy pop up Dismaland Bemusement Park, so if it's good enough for him, it's good enough for us.
Mild Mild West
From the Harbourside, head to the heart of Bristol's cultural quarter, Stokes Croft. Banksys Mild Mild West mural is located on the side of a building overlooking the Canteen's beer garden (very popular and for good reason).
Rose on a Mousetrap
Found on the side of someone's home on Thomas Street North, this is the only framed piece in Bristol. Residents have said to have put their money together to buy glass and a frame to protect the artwork from vandalism.
Blowpop Records
You can find it on the wall of what used to be a night club and record label in Stokes Croft. Although the graffiti is pretty faded, it's still worth the visit.
Graffiti Cat and Dog
Just a short bus or car journey from Stokes Croft is Easton. Home of some of Banksys earliest work and can also be found alongside lots of different street art pieces from different artists.
Masked Gorilla
Last but by no means least with a very interesting story behind it. This mural was on the wall of an ex-North Bristol Social club, turned Muslim cultural centre which new owner mistakenly painted over after thinking it was a 'regular' piece of graffiti. Luckily, options were explored and the mural was restored.